January and February have flown by at Newport! We enjoyed visits from many members of our local community including Dr. Pham from Blink Family Eyecare, Damen Avenue Puppeteers, and Dr. Yum from Yummy Dental & Orthodontics.  We then celebrated Valentines Day with parties in each of our classrooms including treats and personalized goody bags. With all of the snow we were even able to gear up and enjoy playing in the snow in our play yard.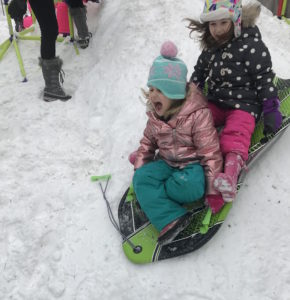 Eye Doctor Visit
Dr. Pham from Blink Family Eyecare has been a part of the Newport family since we opened. We appreciate her joy in educating children about eye health. During her visit children were able to learn about different parts of the eye and participate in 3D eye exams. She even brought in multiple pairs of glasses frames for children to try on and see what it looks like and feels like to wear glasses.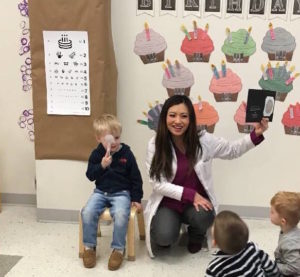 Damen Avenue Puppeteers
Damen Avenue Puppeteers travel the Chicago area organizing live performance puppet shows! We were lucky enough to have them perform for us here at Newport this past January.  Susan Witek, the head puppeteer, gave an outstanding performance of Goldilocks, The Three Little Pigs, and The Tortoise and the Hare. Every child's face was filled with excitement and joy as she put on the show. In between each mini puppet show she asked for audience interactions. Some of our pre-school students and teachers even bravely volunteered to stand up in front of their peers and act out a scene!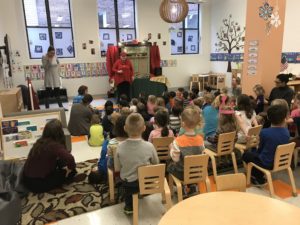 Dentist Visit
Dr. Yum from Yummy Dental & Orthodontics visited and taught children about the importance of keeping their teeth and mouths clean.  During her visit she provided fun interactive experiences for children to practice the correct way to brush teeth. Everyone adored Dr. Yum's stuffed fish and the giant toothbrush they were able to use to brush the fish's teeth!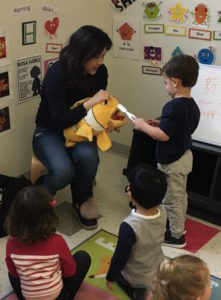 Valentines Day
Excitement filled the school as Valentines Day arrived and the endless cards and treats started filling each child's goody bag. We invited families to join us as each class held its very own special celebration.  Games and dance parties took over classrooms including but not limited to feed the love monster, hop scotch, bead threading, and tissue paper sensory.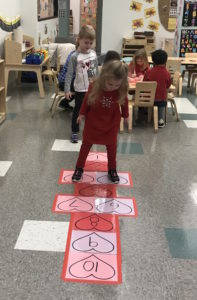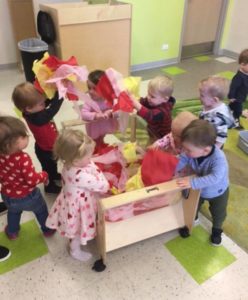 Snow Fun
The recent snowstorm filled our play yard with snow and we couldn't help but build a sledding hill for children to play on. Luckily some warmer weather arrived soon after and we were able to get bundled up and enjoy playing in it! We brought out sleds and igloo building blocks to play with as well.